Radiation Oncology & Medical Physics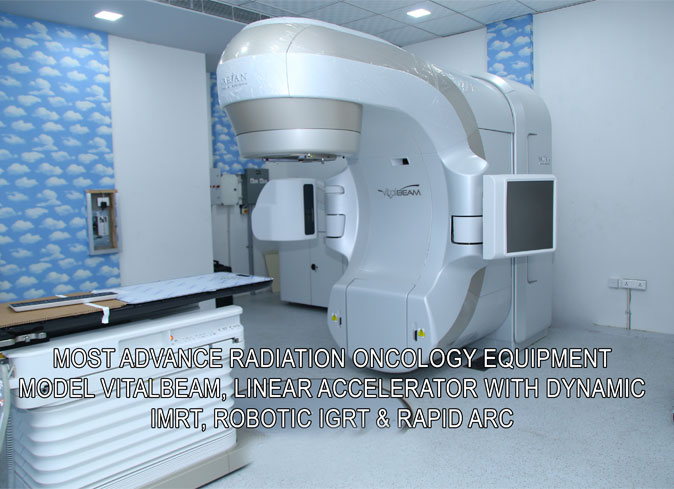 (Approved by AERB, Govt. of INDIA with all Licences Procured)
The Department of Radiation Oncology is headed by Dr. B.N. Satapathy, Who is trained from most prestigious institutes of the country like Tata Memorial Hospital, Mumbai and experienced from BLK Super Speciality Hospital, New Delhi and Dr. Vikram Singhal as a Radiation Oncologist in his team.
Radiation Oncology :
There is lots of advancement in radiation techniques with the aim to have maximal tumor control while minimizing the radiation exposure to normal healthy tissues so that the least side effects are produced. Keeping this in mind we have installed the latest technology machine. Varian Vital Beam with IMRT, Robotic IGRT, Rapid Arc and 24 Channel HDR Gamma Med plus Brachytherapy Unit. Using state-of-the-art radiation technology, our Radiation Oncologists, Medical Physicists, Radiation Technologists and other Staff Collaborate to design custom treatment plans for each and every patient.
Conventional RT
IMRT
Rapid Arc
24 Channel HDR Brachy therapy
3DCRT
IGRT, Robotic IGRT
SRS/SRT/SBRT
Adaptive RT
3D CRT:
(Three Dimensional (Conformal Radiation Therapy)
Local tumor control is an essential element in cancer treatment. Without this, there is always a risk of formation of distant meastases, The location of a tumor and its proximity to radiosensitive structure dictates how conventional treatment method can effectively deliver dose to a tumor.
With superior tumor imaging, treatment plans can be created using state-of-theart eclipse treatment planning system. Radiation treatment beams are designed to conform to tumor shape, thus decreasing normal tissue radiation doses and increases the effectiveness local tumor control.
IMRT (Intensity Modulated Radiation Therapy)
IMRT is a specialized plan using inverse treatment planning & computer - controlled intensity modulation of the radiation beams, with the help of 120 pairs of moveable beams called Multi-Leaf Collimator (MLC). Each MLC moves independently for more accurate targeting of the tumor in minimizing radiation exposure to normal and healthy tissues.
IGRT / Robotic IGRT : (Image Guided Radiation Therapy)
IGRT is a type of Conformal Radiotherapy, guided by imaging techniques such as X Ray or CT Scan taken on treatment couch prior to treatment. An image-guided radiation therapy system that ensures daily setup.
Rapid Arc :
KMC is equipped with Rapid Arc Radio Therapy technology to deliver IMRT which improves dose conformity while significantly shortening treatment duration. Rapid Arc delivers treatment five to eight times faster than other systems and increases precision.
SRS/SRT: (Stereotactic Radio Surgery/Therapy)
SRS/SRT is an advanced and modernized from the radiation theraphy that uses High - energy X Ray beams to shrink or control the growth of a tumor or abnormal cells by hindering their growth and killing them.
SBRT: (Stereotactic Body Radiation Therapy)
SBRT is a technique that delivers high- radiation dose to a tumor target up to a few centimtress in size, anywhere in the body in a hypo-fractionated schedule, usually 2 to 5 fraction over one to two week period, without increasing complication as compared to conventional radiotherapy.
SBRT: (Stereotactic Body Radiation Therapy)
Tandem and Ovoid Brachytherapy (3 Channel) (Intra Cavitary Brachytherapy)
Vaginal Cylinder Brachytherapy
Esophagus Brachytherapy (Intra Luminal Brachytherapy
Brachytherapy
Tandem and Ovoid Brachytherapy (3 Channel) (Intra Cavitary Brachytherapy)
Vaginal Cylinder Brachytherapy
Esophagus Brachytherapy (Intra Luminal Brachytherapy)